23rd Annual Gandy Dancer Days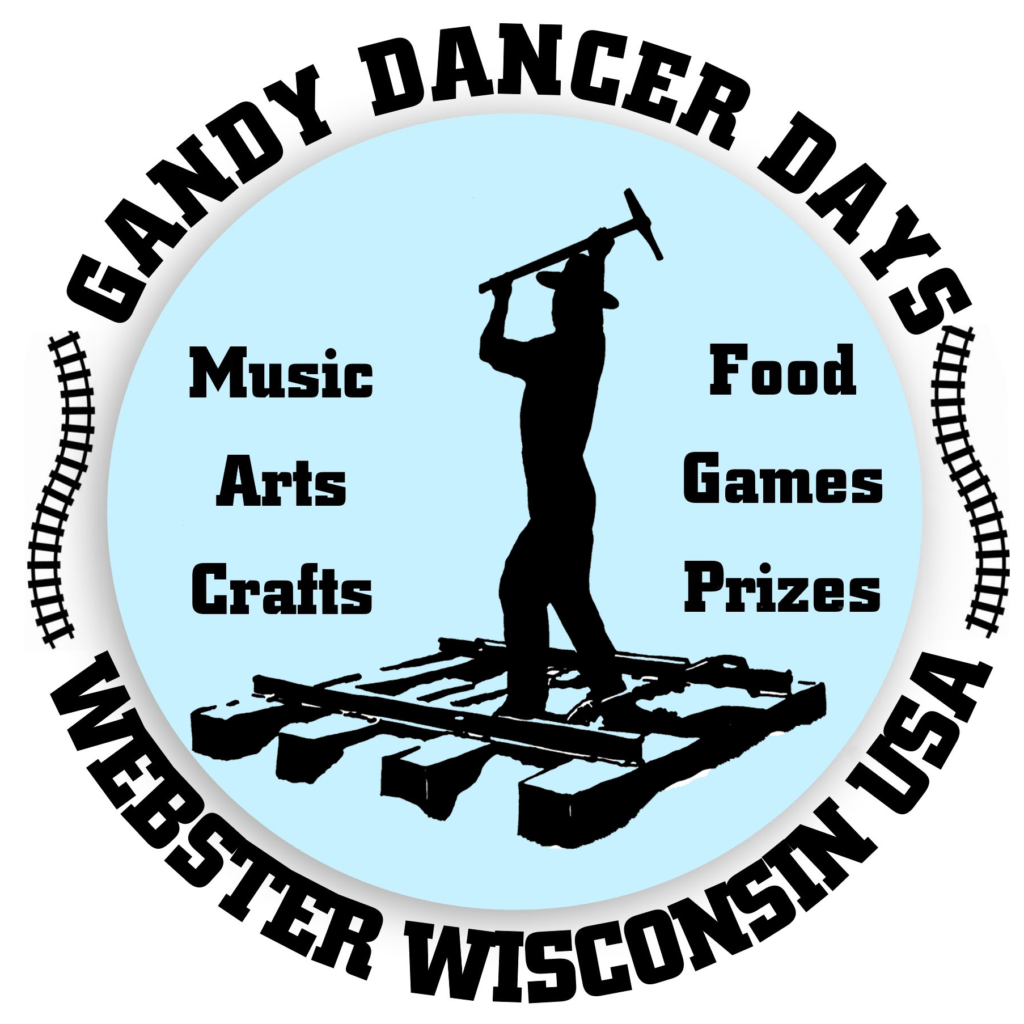 Friday, Saturday & Sunday • August 13, 14 & 15, 2021
All activities are free and open to the public courtesy of the Webster Area Chamber of Commerce (WACC).

Sales of food and beverages support local non-profit groups.

Event schedule subject to change due to weather or COVID conditions.

All activities take place at the Central Burnett County Fairgrounds, Webster, unless otherwise noted.
Polk & Burnett County Public Health Departments – MOBILE VACCINE CLINIC, Saturday, 10 a.m. to 2 p.m.
Pfizer (12+), Moderna/Johnson & Johnson (18+), Central Burnett County Fairgrounds, Webster
715-485-9258, polkcountyhealthdept.org
The Veterans' Museum sponsored by the Webster American Legion Legion Otis-Taylor Post #96 scheduled for Saturday at the Fairgrounds is cancelled due to a shortage of volunteer personnel. We regret that we aren't able to bring this salute to our military veterans to you this year. Thank you for your understanding and support.
CHANGE TO 5K RUN/WALK: Due to ongoing construction at the Webster High School, the new registration, start and finish for the Webster Education Foundation 5K Fun Run/Walk will take place at the Webster Fairgrounds Beer Garden starting at 7:30 a.m. For additional details and to register in advance, visit websteref.org.
TO SEE/SHOP
Arts & Crafts Show, Saturday, 9 a.m. to 3 p.m.
"Arts Alive on 35," Saturday, 10 a.m. to 3 p.m.,
Burnett Area Arts Group at the Passage Art Gallery,
one mile south of Webster on St. Rd. 35
Flea Market at Emily's Luncheon, Lakeland Ave. N.
TO HEAR

Music at the Fairgrounds Beer Garden
Dan Zimmer Band, Saturday, 12 noon to 2 p.m.
Sponsored by Webster Cog & Sprocket
Greg Hyde Band, Saturday, 2:30 to 4:30 p.m.
Sponsored by Studio Northwoods
Circuitbreakers, Saturday, 8 p.m.
Zia's Pavilion, 26708 Lakeland Ave. N., Webster
TO DO FOR GROWNUPS/FAMILIES

Veterans' Museum - cancelled (see above), Saturday, 9 a.m. to 3 p.m.
Otis-Taylor American Legion Post #96, Webster
Library Book Sale, Saturday, 10 a.m. to 3 p.m.
Larsen Family Library
Sponsored by the Friends of the Library
Hunt for the Golden Spike, Saturday, clues posted at Gandy Dancer Book Store hourly starting at 10 a.m. until found.
Main Street, Webster
Sponsored by Benson Ace Hardware, Webster

TO DO FOR KIDS

Bicycle Safety Rodeo, Saturday, 10 a.m. to 12 noon
Sponsored by the Webster Police Department
Sawdust Pile Treasure Hunts, Saturday, 1 to 2 p.m.
Sponsored by Wayne's Foods Plus, Webster
Children's Book Fair, Saturday, 10 a.m. to 1 p.m.
Larsen Family Library
Sponsored by the Friends of the Library
Dunk Chair, Friday, 1 to 3 p.m., west end of Main Street
Saturday, 11 a.m. to 3 p.m., Fairgrounds
Sponsored by the Webster Area Chamber of Commerce

TO DO FOR ACTIVE FOLKS

5K Run/Walk, Saturday, 8 a.m.
Webster Fairgrounds Beer Garden - starting new location
Sponsored by Webster Education Foundation
16-Mile Bicycle Ride, Saturday, meet at 9 a.m.
Webster Cog & Sprocket
Sponsored by Lake Country Pedalers
Open Ping Pong Play, Friday, 10 a.m. to 12 noon; Saturday, 12 noon to 2 p.m.
Webster Community Center
Sponsored by Webster Ping Pong Group

FRIDAY 
Webster Lions' Club Bake Sale, 8 a.m. to 12 noon (or until sold out)
Main Street, Webster
SATURDAY ON THE MENU
Brats, Chips, Soda, 10 a.m. to 3 p.m.
Fairgrounds Beer Garden
Otis-Taylor American Legion Post #96
Beer Sales, 10 a.m. to 4 p.m.
Fairgrounds Beer Garden
Central Burnett County Fair Board
Root Beer Floats, 10 a.m. to 4 p.m.
Fairgrounds Beer Garden
Otis-Taylor American Legion Post #96 Auxillary