Welcome to Webster, Wisconsin!
You're invited to visit the Sunfish Capital of Wisconsin throughout the year enjoy small town shopping, fun annual events, great fishing on area lakes and to meet friendly folks.
Gandy Dancer Days 2019:  Two-day estimated attendance: 1,000-1,1000
           Save the dates: August 7,8,9  2020
GoldenSpikeWinners:  They found the Gandy Dancer Days Golden Spike and claimed the $50 cash prize:.

Back: Scott Matlock, Kathleen Rypel, Jennifer Matlock. Front: Tommy Marlock, Silvia Marlock.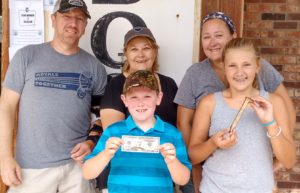 Kathy and Bob Neuendorf of Freeport, Il. took home an original
painting by Webster 
wildlife artist Jim Springett, who held a painting 
demonstration and exhibit on Main St. as part of Gandy Dancer Days
activities downtown. 
Photo: M.Springett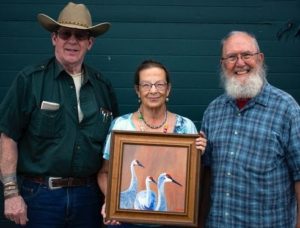 More photos of 2019 Grandy Dancer Days...